I want to dedicate most of this blog to a quote of Caroline Myss. Better than she I couldn't say it.
On Holocaust Day, a fews weeks ago, Caroline attended mass, and there the priest said: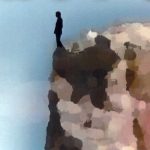 "There comes that time, that moment when we must recognize that we are being called forth to take a stand against injustice. That time is now. We can no longer be silent as human beings – many our fellow citizens – face an injustice that comes painfully close to a time that sent others to their death. Today it is the Muslims. Tomorrow it will be some other group of people. This is how the horror that became Nazi Germany began." Then Caroline continues:
Many of us have been involved in our spiritual development for years. It's time to reflect upon what that path means for you. The spiritual path is not about finding happiness and love; it is about developing stamina and resilience. It is about recognizing the truth and standing for principles. From truth comes the capacity to love with courage. Happiness is the result of not compromising your values, of making choices with courage – ones that do not betray your inner guidance. You don't "find" happiness; you generate it from the essence of who and what you are.
Maybe all the years we have invested in reading spirituality and in inner work has been in preparation for this time right now. Protests are going to happen more and more. Unrest is going to grow. We have anticipated "change" happening. But as has always been the case, we never have control over how that change will happen. The choice we do have, however, is to remind ourselves of what we believe to be the Truth. The inner spirit has infinitely more authority over the physical world than chaos. You need to understand how that authority works and you need to trust Divine authority. And you need to cooperate with it. Fear and anger are poison. Teresa of Avila called these forces "reptiles" that contaminate your mind – tools of the darkness. If you start to believe in "dark messages" from the media, tell yourself that a "reptile is trying to get into your mind." Pray it out of you: ". . .  Grant me the grace to dwell in thoughts that contribute to the healing of humanity. Do not let me become a channel for darkness. Not now. Not ever. Amen."
I couldn't agree more.