This is a summary in English of my last five blogs for my English speaking readers. I started an endeavor four weeks ago to write a series of blogs about the questions: is continuing economic growth, as measured by Gross Domestic Product (GDP), possible and desirable, and if not, what then should replace it? This series of blogs will go on for some time, but because it is time for an English blog in between, I'll now summarize the first five ones.
In the first blog I introduced the concept of GDP and defined how this is measured. In the second blog I showed what the GDP is not measuring: the black economy (in Holland 10 % of our economy), the informal economy (volunteers, kid education , domestic work), production of non-materialistic values (happiness, silence, leisure), the effects of NOT doing something (nature conservation by not building or not mining), the  social and ecological costs of measures, and so on. Also in that blog I exposed the measures by which governments continually  are trying to promote the growth of the GDP, and showed that those measures had negative social, financial en ecological consequences as well.
In the third blog I showed that a raise in GDP leads to an higher average income and promotes employment opportunities. However, it has none or a negative effect on income and wealth distribution, ecology and the non-material values I mentioned above. Why then are we so addicted to economic growth? It is because our desires and our greed, especially in comparison with others – the lawn of the neighbor is always greener – make us wanting more material goods again and again, and also because governments don't know alternative means to improve employment opportunities.
In the fourth blog I showed that material economic growth will come to an end anyway, if we like it or not. No organism or system can grow endlessly with a certain percentage, because in the end that will result in an exponential growth curve that will lead to the collapse of the system. And even before that happens the planet will set limits to growth, because of global warming and the running out of resources (raw materials). So the only choice we have is an abrupt collapse, or a controlled stopping of our growth by transforming our economy.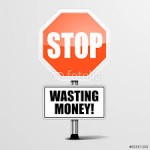 In the fifth blog I show that green growth or a circular economy (cradle to cradle) is no alternative for economic growth, because, in order to get there, we will have to do quite a bit of material investments that in itself are promoting growth. Nevertheless this is a way we have to go, but then in the mean time we have to limit all other investments, so that the growth of the GDP will stop or will be diminishing.
No living organism, no society can do without growth. So we are stuck. How to go further? That I'll deal with in the next blogs. After the tenth blog I shall summarize them again. So long!
(I apologize for mistakes in my English. Blogs are cursory – not stuff for correction by a native speaker).